Product overview
On-line intelligent motor starting control cabinet is a high-performance product specially developed for the starting, stopping and protection of squirrel-cage three-phase asynchronous motors, with built-in circuit breaker (optional), complete functions, simple operation.
Technical feature
Start mode: current limiting start, voltage ramp start, jump + current limiting start, jump + voltage ramp start, current ramp start.
Parking: soft parking, free parking.
Protection functions: overcurrent protection, phase - off protection, overvoltage protection, load short circuit protection, etc.
With the function of dynamic fault recording, it can record the ten recent faults, which is convenient to find the cause of the faults.
Soft start and stop time is adjustable from 2 to 60 seconds.
Large screen LCD Chinese display, parameter setting, easy to query;
The current and voltage closed loop control and torque closed loop control are realized.
With programmable fault relay output, multifunctional programmable relay output, 0-20ma (or 4-20ma) analog current output.
Motor does not need to speed occasions, can partially replace the frequency converter, lower cost.
Perfect motor protection function
External fault input protection (instantaneous stop terminal)
Loss of pressure protection: after the soft starter power off and power,no matter what position the control terminal is in.
The soft starter will protect itself if it fails to start within the set time due to improper parameter setting of the soft starter.
When the temperature rises to 80℃±5℃, the protective action shall be performed with the action time Input lag time of phase loss protection: Output lag time of phase loss protection: The protection time when the starting current is continuously more than 5 times the rated working current of the motor.
Operation overload protection time: the motor rated working currentas the basis for the inverse time limit thermal protection.
When the power voltage is lowerthan 50% of the limit value, the protection action time is less than 0.5 seconds.
Overvoltage protection lag time: when the power voltage is higher than 130% of the limit value, the protection action time is less than 0.5 seconds Load short circuit protection lag time: the current of the soft starter nominal motor current rating more than 10 times.
Product feature
Feature 1: fully digital control system, multiple starting modes:
—Using microprocessor, fuzzy control and large current zero switching technology;
—It has strong load adaptation and emc capability
—6 starting modes and 2 stopping modes;
—Start 12 times per hour.Starting from the lotus can only be done 1-2 times.
Feature 2: high cost performance:
—1:1selection, high cost performance;
—No debugging, direct installation and use;
—Low failure rate, simple fault can be eliminated.
—The cabinet thyristor works online for a long time, no ac contactor is used, the —maintenance cost is reduced.
Feature 3: strong environmental adaptability:
—Requirements for transformer capacity is low.
—Wide voltage range, plus or minus 15% deviation
—Sealed cabinet structure
Feature 4: simple and convenient operation, low operating cost:
—Direct installation and use, two buttons, "start", "stop", simple operation;
—Panel Chinese display, can view voltage, current and other parameters;
—Small size, light weight, easy to transport and installation; The height of the cabinet is 1000mm-1600mm, and the weight is about 30kg-60kg.
Feature 5: multiple protection functions:
—Circuit breaker protection
—Motor protection during starting
—Motor protection during operation
—Soft start has 12 kinds of protection functions
Key function description

Parameter setting code is as follows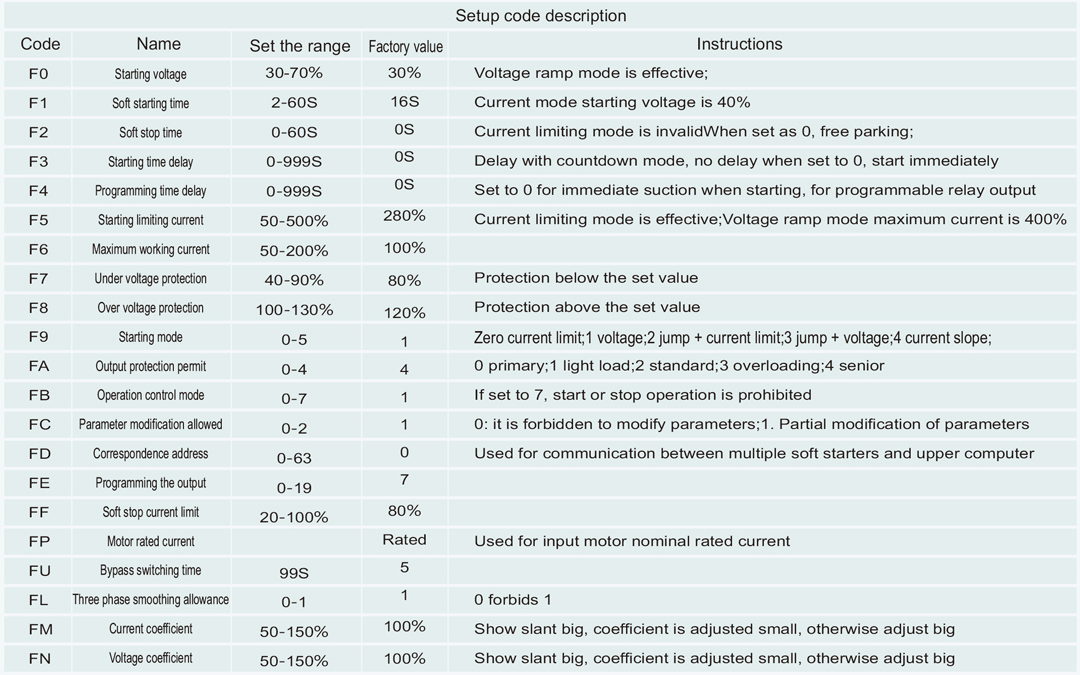 Product appearance and description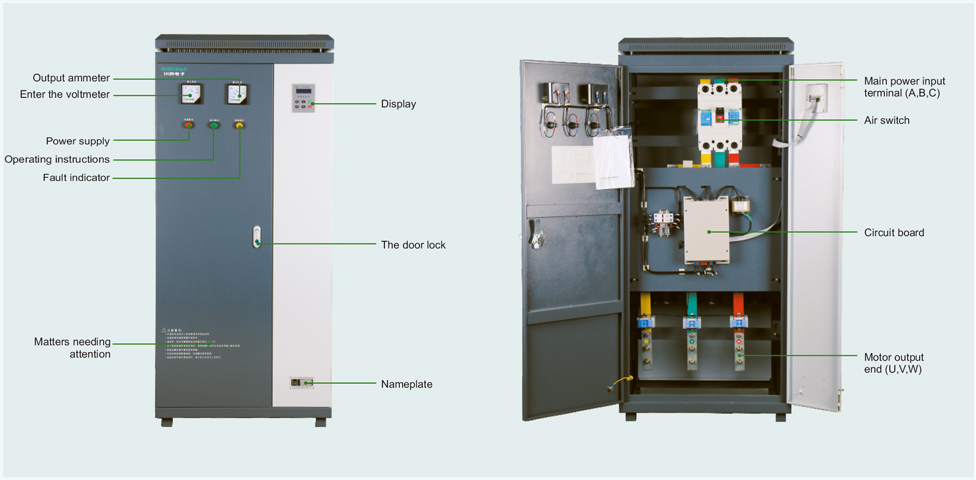 Model selection definition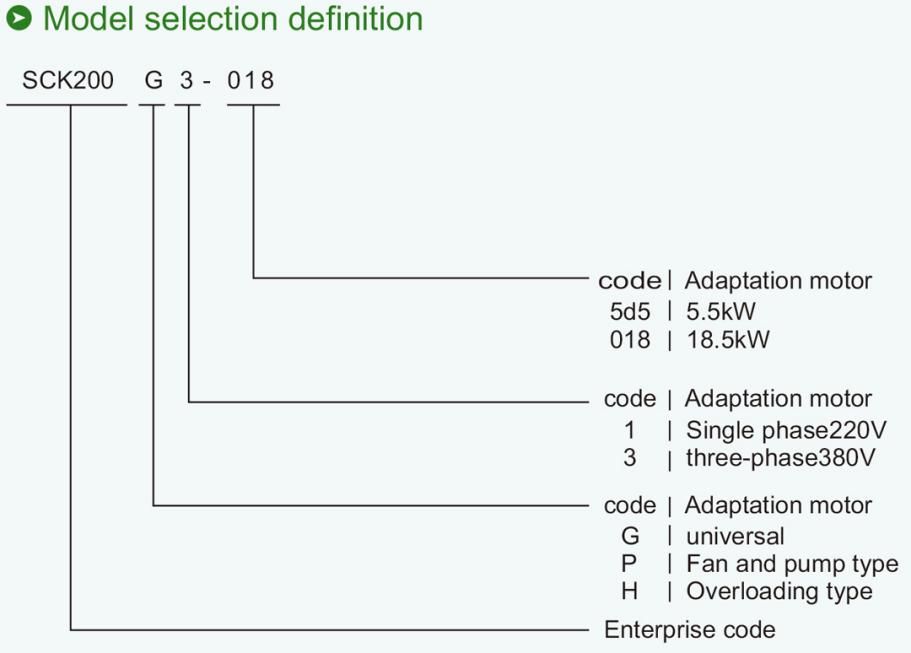 Standard platform series
SCK100 series frequency converters: voltage grade 220V, power range 0.4~2.2kW
380 v voltage level, the range of 0.75 ~ 7.5 kW power
SCK200 series high-performance vector inverter: voltage grade 220V, power range 0.4~2.2kW
380 v voltage level, the range of 0.75 ~ 630 kw power
Special series
—Lifting inverter
—Special converter for grate
—Textile frequency changer
—Converter for injection molding
—Rotary cutting machine frequency
—Air compressor special frequency
—High frequency output
—Constant pressure water supply
—Printing industry
—Tension control special inverter
—Machine tool spindle
—Woodworking high speed milling machine
Typical industry application