More control
—SCKR1 -7000 soft starter adopts a new generation of soft start technology, and the adaptive acceleration control enables you to control the motor acceleration curve and deceleration curve to an unprecedented level.
—The soft starter reads the motor's performance during starting and stopping and adjusts its control to achieve the best results.Simply select the curve that best fits your load type, and the soft starter automatically ensures that the load is accelerated as smoothly as possible.
Easy to use
—SCKR1-7000 is easy to use during installation, debugging, and operation, as well as during troubleshooting. Quick setup allows the machine to run quickly and display tripping messages in real language that indicate exactly what went wrong.
—The control entry line can be selected from the top, bottom or left, which is very flexible. The unique cable access and fixing device make the installation faster and tidy.
—You will soon experience how easy it is to use SCKR1-7000.
Product feature
—SCKR1-7000 is a highly intelligent, very reliable and easy to use soft starter. SCKR1-7000 is a perfect solution with newly designed functions for quick setup or more personalized control. Its performance includes:
—A large LCD screen that displays feedback in multiple languages
—A remote-mounted operating board
—Intuitive programming
—Advanced start and stop control functions
—A series of motor protection functions
—Extensive performance monitoring and event logging
Model selection definition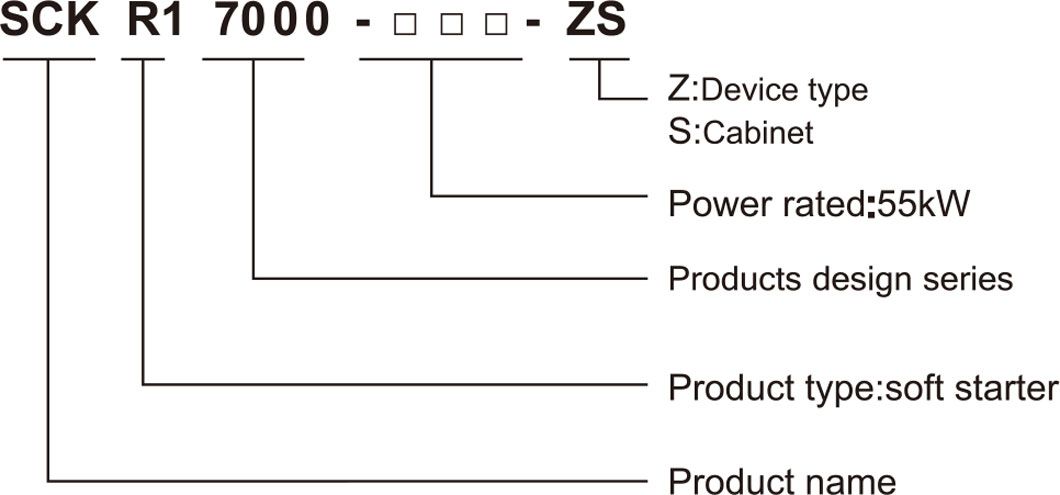 Adaptive acceleration control



Adaptive acceleration offers three start and stop curves to suit your needs.
SCKR1-7000 simplifies installation and operation of motor starting system, thus reducing installation cost and reducing cost Short installation time.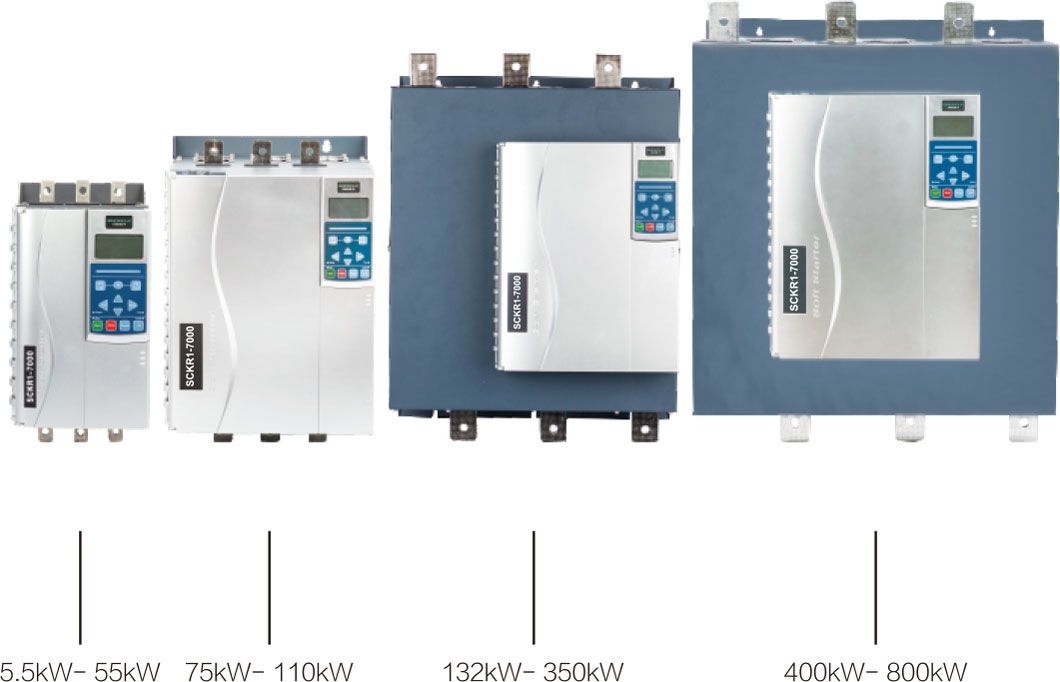 Real - time language display
SCKR1 -7000 displays feedback in real language and you don't have to look up the code to see what's going on. Tracking motor performance has never been easier, thanks to real-time metering displays and 99 event logs with time-stamped operational and performance details.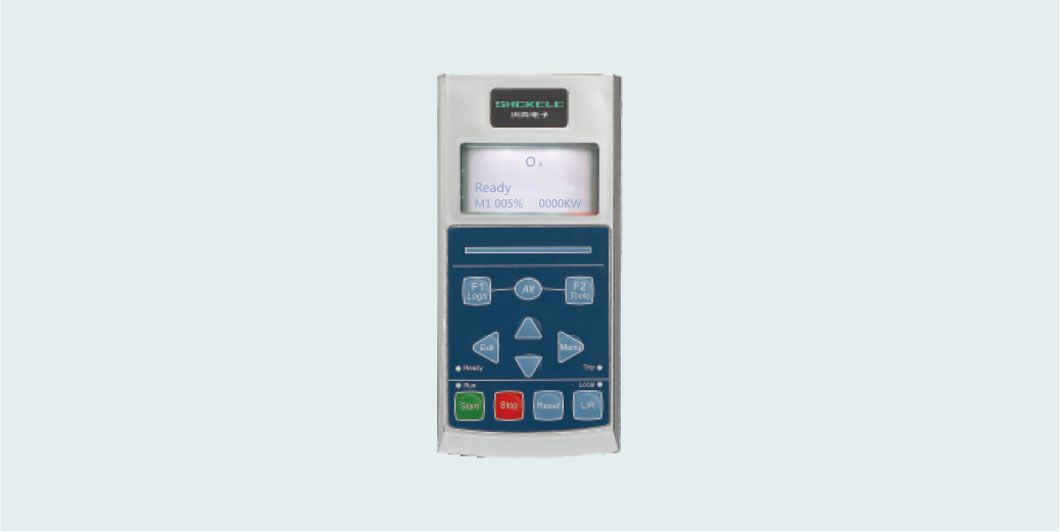 Graphical display
In many cases, we do not use words, but use real-time motor performance diagrams and current diagrams to quickly and clearly illustrate the motor operation.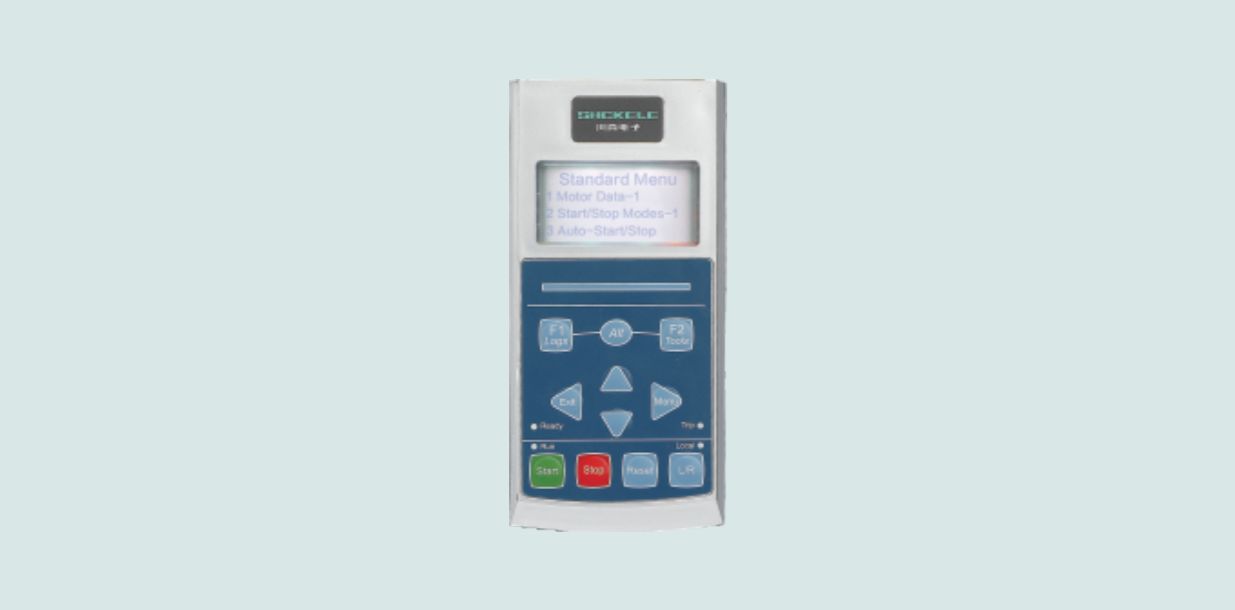 Remote display installation
With an optional panel mounting kit, the panel is easily mounted outside the cabinet.
If multiple soft starters are installed in a single cabinet to facilitate centralized control in one place, all relevant information can be obtained.
Multiple monitors can also be mounted side by side to quickly diagnose problems.
(after installation, the protection level is Ip65)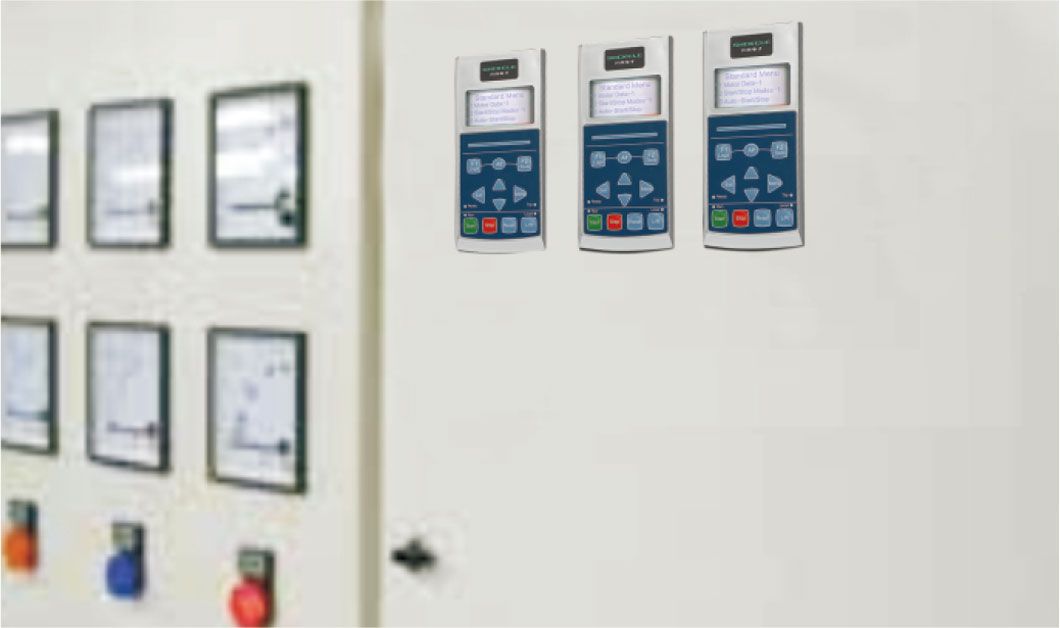 Measurement and monitoring
SCKR1-7000 displays A lot of information and can replace additional power meters (A, kW, kVA, pf).
Program multiple devices
When programming multiple devices, the data can be downloaded immediately by inserting the operating board into different starters.
Stop smoother
Soft stop can also be precisely controlled, suitable for applications where a smoother soft stop is required, which can greatly reduce or even eliminate water hammer effect
For large inertial loads, SCKR1-7000 incorporates the latest
Brake
For large inertial loads, SCKR1-7000 incorporates the latest braking algorithm from kc, allowing you to accurately control the motor stop time.resulting in increased productivity.
Overdrive is more intelligent
SCKR1-7000 allows you to control motor start.You can choose the best soft start control method according to the application requirements.
For applications requiring precise control of motor starting current, SCKR1-7000 provides a constant current or current ramp starting mode for your choice.
Advanced operation
SCKR1-7000 has many advanced functions, which can meet the unique application requirements.
>Pumping (eg. high head applications)
>Compressor (optimized load control)
>Band saw (easy alignment of blades)
>Irrigation system (built-in timer)
Simulation
The true-proof function allows you to test the working condition of the soft starter, the external control circuit and related equipment without needing to turn the soft starter.
>Running simulation: simulate motor starting, running and stopping
>Protection simulation: simulate the activation
>Signal simulation: simulation output signal.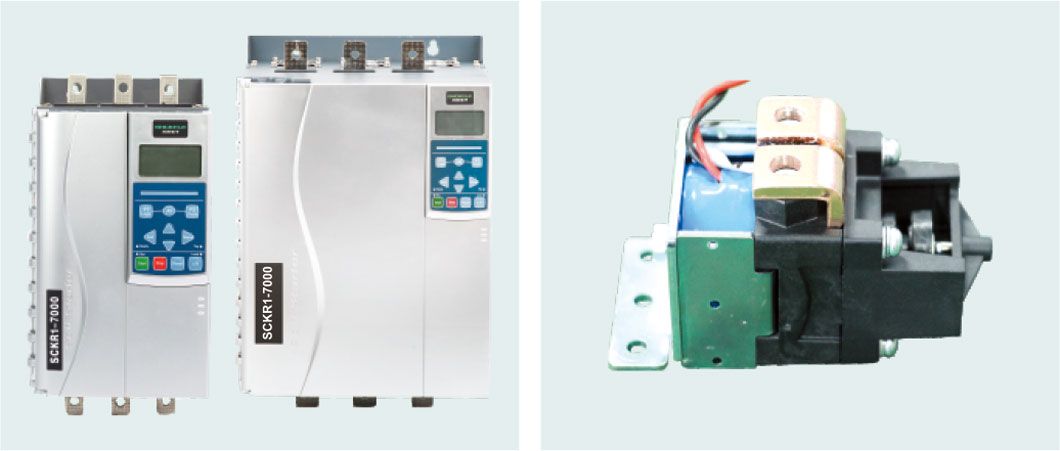 Easy to install
If the motor control center space is limited, use the compact design of SCKR1-7000 can save space and eliminate unnecessary trouble.Built-in bypass contactors, built-in monitoring and indicators, and numerous control built-in input and output functions reduce the space and cost of external installation and simplify installation.
Bypass contactor
No need to install the external bypass contactor, the new built-in bypass contactor, compared with the ordinary ac contactor, performance improved by 3 times, heat dissipation 2.6 times, safety 25%, energy saving 20% service life up to 100,000 times.